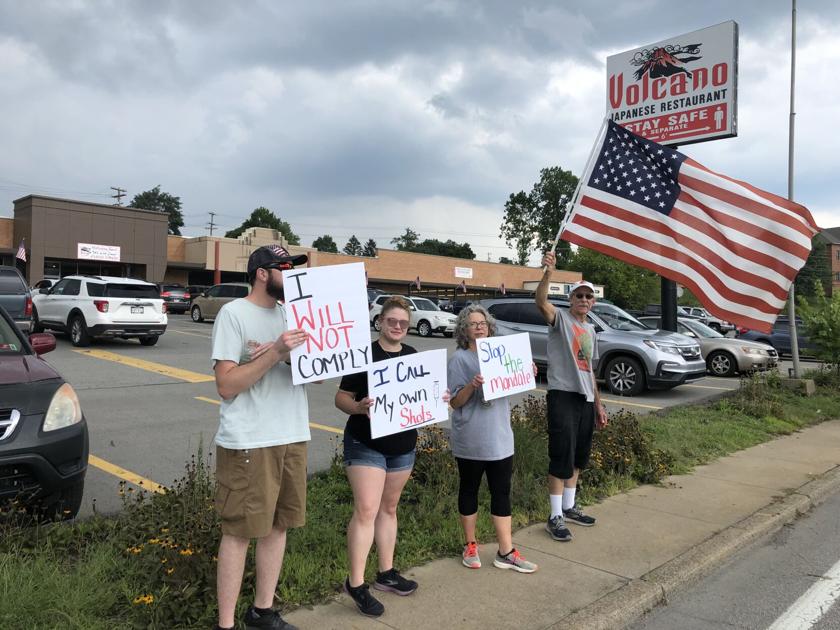 WVU Medicine's COVID-19 Vaccine Requirement Protested |
[ad_1]
MORGANTOWN – For Steve Carter, demanding that someone take a COVID-19 vaccine is comparable to sexual assault.
"What do you call it every time someone forces someone into your body, forcing you to do something," Carter said. "It's in that sense; it is equivalent.
Carter and about 20 others gathered on Patteson Drive in Morgantown on Saturday to protest WVU Medicine's requirement that all employees be fully immunized by October 31.
WVU Medicine released a statement regarding the outbreak:
"We respect the right of people to express their feelings and opinions on this subject, but a public health crisis demands a public health response," according to a spokesperson for WVU Medicine. "Our providers are on the front line to care for people in this community; we cannot sideline them due to COVID as it compromises patient care. The FDA-approved vaccine, which hundreds of millions of Americans have received, is safe and effective. "
The protest was planned for Monday, largely by Bri Leichliter, an employee of WVU Medicine.
"I wanted people to feel like they weren't alone," said Leichliter. "I cried all the way home from work [the day the vaccine requirement was announced]. I have friends who cried all the way home from work, and we cried every day, because we are scared.
Leichliter said she was not against vaccines and had received the COVID-19 vaccine and was "proof that it is not safe."
"On February 3, I had my second Pfizer and within six minutes I started having an anaphylactic reaction," Leichliter said. "I was admitted overnight for 12 hours and my heart rate was in the 160s for 12 hours."
The Centers for Disease Control says about two to five people per 1 million people vaccinated in the United States suffer from anaphylaxis, and severe allergic reactions, including anaphylaxis, can occur after any vaccination.
For two months, Leichliter said she was unable to care for her children as she recovered from the vaccine.
"They thought I had multiple sclerosis – and before that I was a perfectly healthy woman working, taking care of her family," Leichliter said.
When the vaccine's mandate was announced on August 23, Albert Wright, president and CEO of WVU Health System, said it was needed because it was the right thing to do.
"We are the state's primary health care provider and largest employer, and we have a higher obligation to our patients as well as to each other," Wright said in a statement. "I want WVU Medicine hospitals and clinics to be as safe as possible for our patients and staff. A fully immunized workforce will help ensure this safety. "
Leichliter said the purpose of the protest was not to remove the severity of the COVID-19 pandemic.
"We are not ignoring the fact that people are dying from COVID – we are not ignoring that," Leichliter said. "But what is ignored are the detrimental effects of this reaction. They are diminished.
Leichliter gave the statistic that 14,000 people have died from the COVID-19 vaccine, without providing an explanation. The CDC reports that in the United States, more than 310 million doses of the vaccine have been administered, with 5,343 deaths reported, a percentage of 0.0017. The report says that doesn't mean the vaccine resulted in their deaths, just that they died after being vaccinated.
"Why don't we look at all of the alternative treatments," Leichliter said. "Anyone in health care will tell you, you can get the vaccine and you can still get COVID. You can still wear, you can still pass, you can still die. The governor of justice has just announced on the news that hospitalizations among vaccinated people are on the increase. I mean, it's not my opinion, it's my facts.
Carter's mother and stepfather both had COVID-19 and they have recovered. Carter said he would be ready to take the vaccine once more studies are done.
"It's my body, my choice," Carter said. "I'm not going to do it. If I have to change jobs, I'll change jobs, I'll do whatever it takes, but it's on my terms.
Contact Chris Slater at [email protected], 304-887-6681, or follow @chris_slater on Twitter.
[ad_2]