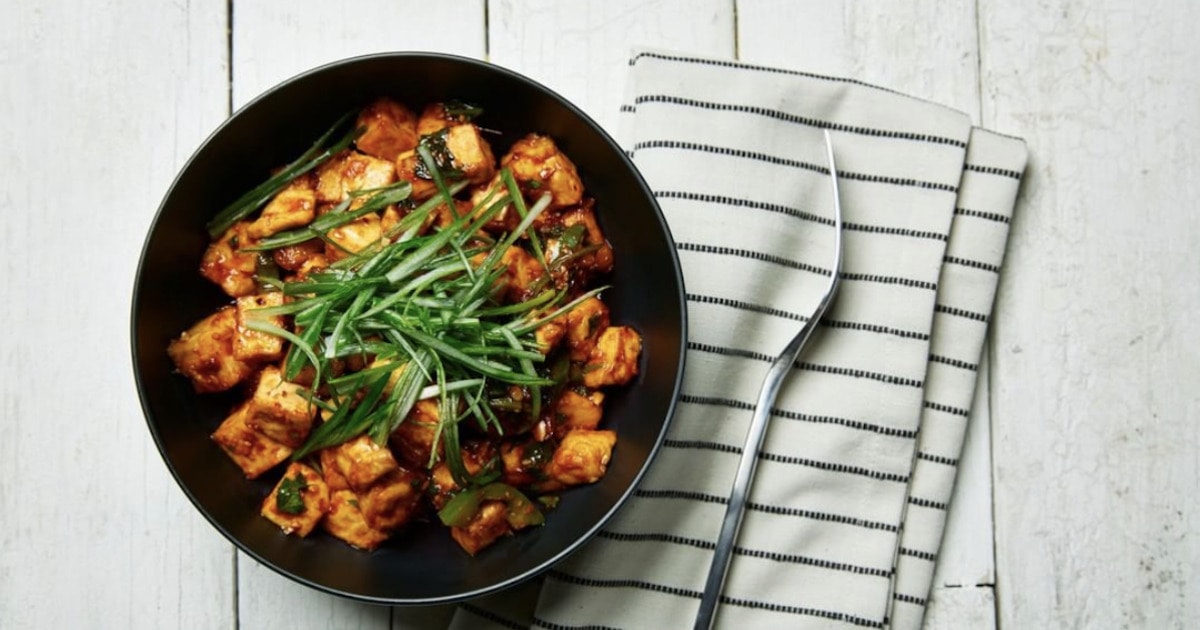 What is soy-free tofu and 5 reasons to try it
Soy and tofu go without saying – you need one to make the other, just like you need cocoa to make chocolate. But just as vegan innovators made meat without animals, it's possible to create tofu without soy. While at first the concept may seem more impossible than a bleeding vegan burger, it has been done, and it is firmly "a thing". Whether you're avoiding soy for allergy reasons or just looking to mix up your meals, step into the world of soy-free tofu and find out where to buy it, how to make it, and what to do with it.
What is soy-free tofu (and how do you prepare it)?
Soy-free tofu isn't a modern product born out of the recent wave of soy scares – it's a long-standing staple of Burmese cuisine. Sometimes called Burmese tofu or Shan tofu (named after the region it originates from), soy-free tofu is simply made from chickpeas and water. While the traditional (and much more laborious) method involves soaking split chickpeas and mixing the beans and their liquid into a paste, the more modern method relies on chickpea flour (flour made from ground chickpeas ) to speed up the process. Most preparations loosely follow the steps for making polenta – mix flour, water, and optional spices together to make a paste; cook until thickened, cool, refrigerate and slice. Granted, you can always use chickpea flour and overcomplicate things, depending on what texture you're looking for. Some cooks swear that fermenting the flour first, then letting the cooked dough rest a good eight hours before slicing, results in a firmer texture. It's up to you and your schedule.
Soy-Free Tofu Diet
Since soy-free tofu is mostly made of chickpea flour and water, you can expect the nutrition to be quite beneficial. Like soy-based tofu, this variety is naturally gluten-free. It is also very low in total fat and contains no saturated or trans fats. Exact amounts will vary depending on the recipe and the gram flour to water ratio, but expect the fat content to hover around one to two grams per serving. Burmese tofu also contains iron and calcium and is a decent source of dietary fiber, about three grams per serving. Although not as high in protein as tofu, this food still provides four to six grams of protein per serving, again depending on the recipe. The higher the ratio of chickpea flour to water, the more protein the resulting product will contain. Calorically, chickpea-based tofu generally mimics the calorie density of extra-firm tofu, around 70 to 80 calories per three-ounce serving.
Healthy cooking gems
5 reasons to try soy-free tofu
No, "soy will give you man boobs" is not a reason to try soy-free tofu. To hash out the great soy debate, take a look at this article. Once you know why soy isn't the demonized food that some make it out to be, please come back to this read, because there are more reasons to put chickpea-based tofu on your plate.
1 You are allergic to soy
Most people can tolerate soy very well, but it is one of the eight most common food allergens, commonly referred to as The Big 8. According to a survey by the National Institute of Allergy and Infectious Diseases, 0.6 % of the US adult population is allergic to soy – a lower percentage than any of the other Big 8. Most food allergies – including soy – develop in early childhood and often abate over the childhood or adolescence. Like all food allergies, symptoms range from mild (itching and digestive issues) to severe (vomiting, wheezing, swelling, hives and life-threatening anaphylaxis). If you're even mildly allergic to soy, its chickpea-based cousin is perfect.
2 Looking for your next culinary project
Making soy-free tofu at home is much easier than making soy-based tofu from scratch, but as mentioned above, it can be quite time-consuming if that's what you're looking for. Whether you take the simple route or take the multi-day trip, there's no denying that homemade tofu tastes exponentially better than anything you could have bought at the store. Pride really adds that extra bit of I do not know what flavor.
3 You crave variety
While soy-free tofu can be used in a number of dishes that typically feature traditional tofu, the taste and texture are different enough to light up your taste buds and turn something old into something new. Burmese tofu is not spongy, it is a bit denser and has a more complex mouthfeel than its soybean counterpart. If you like polenta, chances are you like chickpea tofu.
4 You don't need to press it
Once you have prepared (or purchased) Burmese tofu, you can use it right away. No need to remove the tofu press, wait 20 minutes, or settle for less than superb tofu because you didn't have the patience to properly extract the moisture from your store-bought soy block. Soy-free tofu is always good to go.
5 You had soy for every meal
Soy isn't bad for you (unless you're allergic), but like any food, it's best eaten in moderation. If you had soy milk in your breakfast cereal, a post-workout soy protein shake, a post-lunch soy latte, and you plan to enjoy soy ice cream for dessert, you you may want to consider a soy-free option for dinner. . You can still have your salty scramble, just replace the soy with chickpeas.
Fu fighters
Store-bought soy-free tofu
We look forward to the first commercially available Burmese tofu. As a preview at Expo East, a health food trade show, VegNews editors got a taste of the product, which will be rolling out to consumers in January 2022. Produced by Great Mountain Foods, The Original Chickpea Tofu is an allergen-free option for anyone looking to try soy-free tofu without the culinary confidence to make it at home. Alternatively, although it's not exactly tofu, POMFU offers an original variety of its protein based on pumpkin seeds which is a cross between seitan and tofu.
V for Veganista
5 vegan recipes with soy-free tofu
With plenty of chickpea flour and a sprinkle of turmeric on hand, you can whip up a fresh batch of soy-free tofu with just a few basic kitchen tools. Check out the recipes below for how to make chickpea tofu and mealtime inspiration.
1 Vegan Richa Chickpea Flour Tofu
Always reliable when it comes to fantastic vegan recipes, this food blogger opts for the more manageable Burmese tofu-making process. Hands-on time requires less than 20 minutes, and once the mixture has chilled in the refrigerator for an hour, it's ready to devour. Start here if you're looking for a basic recipe that works.
Get the recipe
2 Burmese tofu by Sarah Jampel
Plan ahead, as this recipe will take you a day and a half to make. The vast majority of this is cooling time, so it's still a pretty low-key project – it just requires a bit of patience. We recommend making this recipe after you've mastered the quick version above. Compare the two and let us know if the extra time is worth it.
Get the recipe
3 Burmese Tofu with Garlic, Ginger and Chilli Sauce from Vegan on Board
Unlike soy-based tofu, you don't need to do much to make Burmese tofu appetizing. A quick skillet and a dollop of hot sauce will do the trick. Pro tip: the sauce is also excellent on store-bought tofu!
Get the recipe
4 Mary's Test Kitchen Burmese Tofu Crispy Dips
Breaded, seasoned, and fried, humble chickpea tofu can be turned into an addictive, nugget snack. Infused with tiny pieces of nori, these savory dips are great served with vegan tartar sauce.
Get the recipe
5 V for Tohu Thoke from Veganista
This traditional Burmese tofu salad is more of a salad in the sense that the ingredients are cooked separately then mixed together and served in a bowl. The majority of this salad consists of pan-fried chickpea tofu which is tossed with a slightly sweet spicy sauce, fried shallots, crushed peanuts, and fresh cilantro and kaffir lime leaves. There's a lot going on and you'll love every bite of it.
Get the recipe
For more information on vegan foods, read:
9 fabulous ways to prepare tofu
16 ways to use nutritional yeast
19 Vegan Condiments That Are Better Than The Real Thing