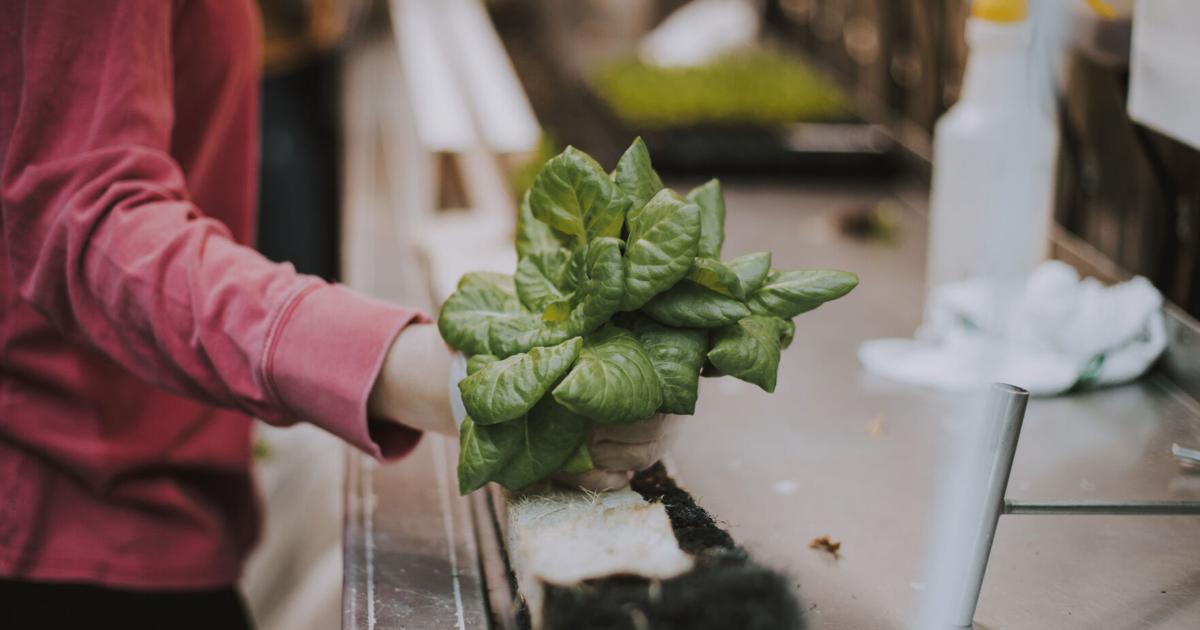 The Efforts of a Nutritionist, Vital Plant-Based Options for Students with Dietary Restrictions | News
Tucked between the buildings on the north side of campus is a small but important piece of the campus dining puzzle – the UofA's own freight farm.
Inside Chartwells Freight Farm, an indoor hydroponic produce garden housed in a former shipping container, Chartwells intern Janeth Jaen takes farm-to-table expression to a new level. What sets this farm's delivery system apart from others around town is that it doesn't need fuel transportation – Jaen simply pushes a handcart across campus to deliver lettuce to where she must go.
The hydroponic farm produces about 410 heads of head lettuce each week for the salad restaurant Where the Wild Greens AR, which has two locations on campus, Jaen said. The restaurant also offers other lettuce options that aren't grown on campus, for those who don't like butterhead.
To grow Freight Farm's lettuce, Jaen spends his time watering, harvesting and controlling the indoor climate using a control panel inside the recycled shipping container.
"The freight farm is a controlled environment," Jaen said. "He can control everything with software. There are all these solutions and nutrients and water flowing every day and you have to calibrate these things. It's just a matter of doing these tasks every week and making sure the farm is supplying as it should.
Growing lettuce on campus is important because if people pass by the cargo farm, it could pique their interest and they're more likely to try restaurant options serving farm-to-table produce, said Jaen.
"Lettuce is one of those ingredients that people who want to be healthier are always looking for, and having a good amount of lettuce also helps the whole campus see that there is enough for everyone," said she declared. "If you constantly see lettuce and it's grown here, I feel like it's exciting for people."
Where Wild Greens AR is one of the few restaurants on campus to offer vegan and vegetarian options for students and faculty, and is a frequent stop for senior Caroline Wagner, a vegan student.
Eating at the same place three to four times a week has taken its toll on Wagner as someone who has dietary restrictions and is looking for more diverse menu options, she said.
"The food is not only nutritious for your body, but it's also a pleasant experience, and I think when you walk in and see the same chicken fillets three days in a row and the same soggy squash and zucchini, it's a disappointment to eat," Wagner said.
Wagner believes students should be able to feel a sense of belonging when visiting restaurants on campus, especially those with food allergies who have never eaten on campus before, she said. .
That's where Ashton Julian, the university's director of nutrition and wellness, comes in. Julian's role is to provide support to students with food allergies and dietary restrictions. Most of the time, students are unaware of what the campus can provide in terms of food resources, she said.
"We really encourage students to speak up if they have specific dietary needs, and my job is to meet them one-on-one and make sure we provide the tools and resources so they can be more comfortable eating on campus. ," she said.
Julian was hired in late October 2021 and has made it his goal to be accessible to students who have dietary needs, she said. She works the line at the Green Table, a food station at 1021 Food Hall whose cooks avoid the eight major food allergens: milk, eggs, fish, shellfish, tree nuts, peanuts, wheat and soy.
"The goal was for students to see me every day and hopefully be more comfortable coming to us and voicing their concerns or just getting to know me and hopefully doing the transition from eating at home to college a bit more (smooth),' said Julien.
Despite the presence of restaurants on campus that can accommodate students with dietary restrictions, it can be daunting for students in need of assistance to reach out, Wagner said.
Wagner sometimes feels like an outsider because of her dietary needs, and she thinks such feelings can be a barrier for students with dietary restrictions or who just want to try plant-based products, especially if they suffer from heart disease. social anxiety, she said.
For several Wagner meals, she finds herself lining up for vegan food, she said. Not everyone has the time or patience for this, and she knows students who were previously vegan or vegetarian who dropped out because eating on campus with these restrictions was too difficult, she said.
For students who don't have the option to stop being vegan or vegetarian, it can be difficult to get the food they need in a timely and healthy way.
"At True Burger, they don't have the ability to not cook tainted burgers right now," Wagner said. "Cross-contamination doesn't violate my ethics, but it's a bummer for people and it violates some people's veganism."
Since cross contamination is a deal breaker for some students on campus, especially those with severe food allergies, they are often forced to depend on Where the Wild Greens AR and Green Table for their daily food needs. restoration.
"I think there's a bit of a stigma around on-campus dining and dietary restrictions, just from anecdotal evidence that I've heard," Wagner said. "I just feel like there has to be something to make it feel like you're not so much someone who needs to be accommodated, but more of another option available."