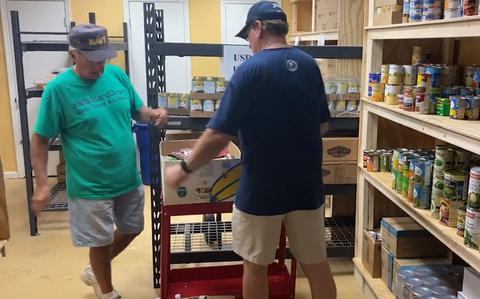 Stars and Stripes – "Kindness Everywhere": Veterans Serve in a New Way in South Carolina's Pantry
Veterans work at the Socastee Pantry in Socastee, SC The pantry is run entirely by veterans and their spouses. (Screenshot from The Sun News video)
SOCASTEE, SC (Tribune News Service) – For the folks at Socastee Pantry, it wouldn't be an exaggeration to say that the place has saved lives.
"I'm out of work, so these places saved me," said Kent Hodges, a resident of Socastee, who bought food this week.
Volunteers in the pantry can identify themselves.
"I don't know if 2022 was guaranteed for me, I could have joined the 22," said Gerry Shea, referring to the average of 22 military veterans a day who commit suicide. "I have three beautiful daughters and a beautiful wife, a beautiful family. But aimless at a young age and nothing to wake up to, (it was) extremely hard for me."
Shea, who served in Iraq and Kuwait before being injured, encountered obstacles after returning to the United States and attempted to harm himself on several occasions. Things changed for him after the first meeting of the Socastee Pantry volunteers.
Now he's one of the many volunteers at the Pantry, which is run entirely by veterans and their spouses. He has his eyes on the future, hoping to connect with other pantries in the region and improve the functioning of organizations like this one.
Socastee and Horry County face food insecurity
The Socastee area has not had a permanent pantry for the past year, and bringing a stable source of food to the area is vital, according to Director Larry Simmons, who was himself in the military.
For Socastee residents like Hodges, who was diagnosed with melanoma a few years ago, bringing food together has helped immensely. Instead of traveling to Garden City from his home in Socastee, Hodges can now save money on gasoline by walking up the road to Socastee's pantry, located in The Father's House, 4513 Highway 17 Bypass South.
Hodges has had four surgeries and three cycles of chemotherapy since being diagnosed with melanoma, so he has not been able to work. For Hodges and other residents of Socastee, access to food has become a barrier. According to the US Department of Agriculture, two distinct areas in and around Socastee are primarily made up of low-income families who also have poor access to food.
Veterans find community by serving in the pantry
For some volunteers, the connection to the people they serve is immediate. They even came into contact with other veterans who come to collect food. Most of the volunteers shared stories of a relationship they formed with an Army veteran who has been in the pantry every week since it opened.
"She comes on Mondays every week," said Bob McCurry, a Navy veteran who served in Vietnam. "She said," I'm so glad you're here, because I know I can eat every week. I get food every week. ""
While providing food to families in need is the main purpose of the Pantry, Simmons has discovered that it gives veterans a much needed chance to connect with each other, share stories and to find support in the veterans community. It can be "like talking to a family member you've lost," according to Roy Edges, a volunteer who spent eight years in the US Air Force.
The Pantry is part of Faith Outreach Ministries, which hosts monthly food distribution events in Horry County. Start-up costs were "almost nil," thanks to generous donations from local businesses, Simmons said. Wood for shelves, the initial food supply, a sign and more were donated to the pantry free of charge.
"It was very healing"
Volunteers, especially those who were unable to complete their deployments, found closure in helping others and bonding with other veterans.
"I just wanted to get back what had been stolen," said Dusty Bolyard, a Navy veteran who left the service disabled. "It's been very healing, it gives me something to do."
The pantry is opening in the final stages of the coronavirus pandemic, in which food insecurity has been in the spotlight as millions of people across the country struggled financially. The need for food in Horry County has been evident for the past year and a half, but veteran volunteers say it's not just a pandemic issue. They plan to stick around long after COVID-19 is in their rearview mirror.
The Pantry is believed to be the first veteran-run food distribution center in South Carolina, and it functions more like a typical grocery store experience than some food banks. Guests can choose the food they want and like, and volunteers are sure to ask questions about allergies or dietary restrictions.
Thanks to a database system developed by Shea, the inventory is updated in real time and volunteers are on the same page about what food products they have and how much is available. Ultimately, the goal is to connect with other food banks in the region to minimize food waste by communicating with each other through a similar system. Simmons also hopes to open another pantry in Socastee where volunteers speak Spanish to improve access to food throughout the region.
"Cuteness comes out everywhere," Simmons said of the pantry's first weeks.
(c) 2021 The Sun News (Myrtle Beach, SC)
Visit The Sun News (Myrtle Beach, SC) at www.thesunnews.com
Distributed by Tribune Content Agency, LLC.