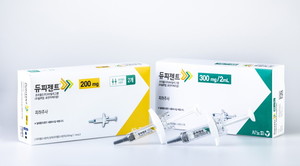 Sanofi finds Dupixent effective in atopic dermatitis in children under 5
Sanofi-Aventis Korea has confirmed the safety and efficacy profile of Dupixent (ingredient: dupilumab) in the treatment of children with moderate to severe uncontrolled atopic dermatitis in recent studies.
The company has conducted LIBERTY AD PRESCHOOL Phase 2/3 clinical trials in 162 patients aged six months to five years.
In the phase 3 study, Sanofi-Aventis Korea found that a combination of Dupixent and low-dose topical corticosteroids (TCS) improved disease severity, skin damage and quality of life compared to monotherapy TCS at week 16.
During the study, 28% of patients receiving Dupixent met the primary endpoint with few or no lesions, while only 4% met the primary endpoint in the placebo group.
Outside the United States, the proportion of patients showed an improvement of 75% or more in the Eczema Severity Index (EASI), the primary endpoint, was 53% in the Dupixent group and by 11% in the placebo group.
"Children are significantly affected during their childhood when they are diagnosed with moderate to severe atopic dermatitis in the first few months of life, and their parents and caregivers are challenged to find safe and effective treatment options," said Dr John Reed, Global Head of Research and Development at Sanofi.
Dr Reed added that since standard care for children with atopic dermatitis could damage the skin and potentially impact their growth if used long-term, the company was heartened by the results of the recent studies showing how Dupixent demonstrated potential as a new option. for very young patients.
"At the start of clinical trials, more than half of patients' bodies were covered with the disease, and nearly a third of them had a history of using immunosuppressive drugs," Regeneron President and CSO said , George D. Yancopoulos. "Our data showed that Dupixent significantly reduced the impact of atopic dermatitis in young children and their families by rapidly improving symptoms and outcomes."
Sanofi plans to present the detailed results of the study at medical conferences and submit them to regulatory authorities in each country.
The Department of Food and Pharmaceutical Safety has yet to approve Dupixnet for patients aged six months to five years.