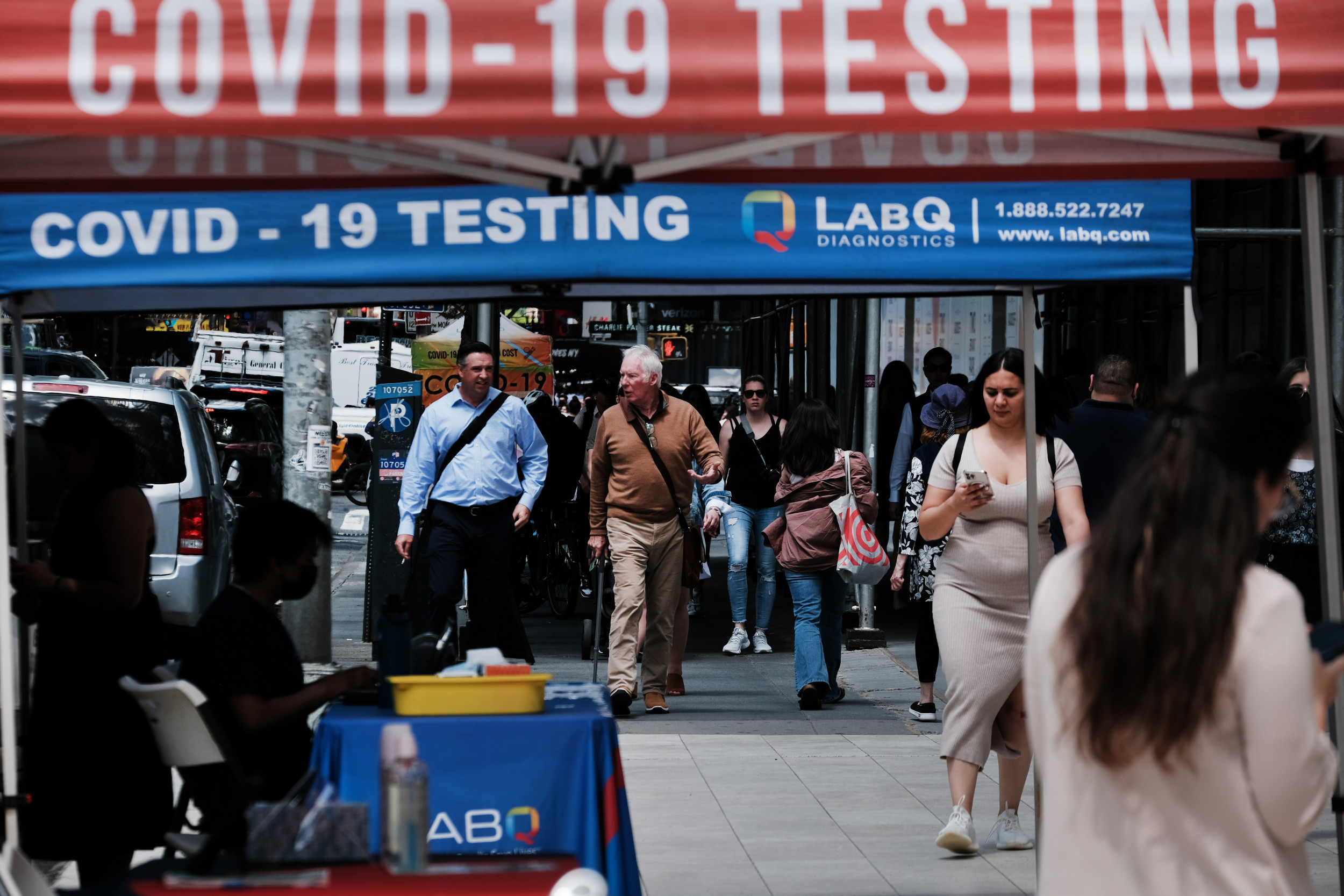 People with certain allergies are 50% less likely to get COVID: study
Food allergies are actually a good thing when it comes to the risk of contracting COVID-19, according to a new study funded by the National Institutes of Health (NIH).
The Human Epidemiology and Response to SARS-CoV-2 (HEROS) study was published in May in the Journal of Allergy and Clinical Immunology and reported that self-reported, doctor-diagnosed food allergy was associated with a 50% lower risk of infection.
The original intent of the study was to determine whether self-reported asthma and/or other allergic diseases are associated with SARS-CoV-2 infection and household transmission. Physician-diagnosed asthma was not reported to be a risk factor for infection, nor was allergy or upper respiratory eczema.
"The results of the HEROS study underscore the importance of vaccinating children and implementing other public health measures to prevent them from becoming infected with SARS-CoV-2, thereby protecting both children and vulnerable members of their household from the virus," Dr. Anthony Fauci, director of the National Institute of Allergy and Infectious Diseases (NIAID), which is part of the NIH, said in a statement. "Furthermore, the observed association between food allergy and risk of SARS-CoV-2 infection, as well as between body mass index and this risk, merits further investigation."
NIAID sponsored and funded the HEROS study.
The study tracked COVID-19 infection in more than 4,000 people in about 1,400 households that included at least one person aged 21 or younger. Individuals were tracked between May 2020 and February 2021 in 12 cities across the United States, before the vaccines were rolled out to the general public.
A caregiver from each household took nasal swabs from participants every two weeks to test for COVID-19, involving the completion of weekly surveys. If the symptoms were consistent with COVID-19, additional samples were required. Blood samples were also taken periodically if necessary.
The NIH said study participants were recruited from existing NIH-funded studies focused on allergic disease, including nearly 50 percent of child, adolescent, and adult participants who had a food allergy, asthma, eczema or allergic rhinitis.
Dr. Max Seibold is a professor of pediatrics at the Center for Genes, Environment, and Health at National Jewish Health in Denver, Colorado. He said Newsweek NIAID contacted him in March 2020 to help with the study.
"There was a lot of uncertainty around the risk to people with asthma, as well as the susceptibility of children with asthma and how transmission might work within families," Seibold said.
As an NIH-funded researcher, Seibold said he already had cohorts of children with asthma or allergies. He and other subjects re-recruited into the HEROS study to undergo surveillance for approximately seven months.
His lab, the Seibold Lab, does a lot of airway transcriptomics that includes nasal swabs to better understand the airways of asthma. His laboratory was contacted to treat and test COVID-19, carrying out epidemiological analyzes of the data generated, involving the performance of several studies on viral infections.
"It's not a finding that we necessarily expected, or at this point we have the answer to observational ideology," Seibold said of the link between food allergies and an increased risk rate. greatly reduced infection.
He said a 2020 study looked at inflammation patterns and the nasal airways of children, finding that those with higher inflammation – or type 2 inflammation – expressed lower levels of a receptor gene. ACE2 which regularly binds and enters cells to trigger infection.
Dr. Tina Hartert, director of the Center for Asthma and Environmental Sciences Research and professor of medicine and pediatrics at Vanderbilt University School of Medicine in Nashville, Tennessee, co-directed the research with Seibold.
"We had hypothesized that asthma and allergic diseases might reduce the risk of infection based on the findings that there are fewer receptors (ACE2 receptor) for SARS-CoV-2 on the surface of airway cells in people with certain types of inflammation seen with allergy," Hartert said. Newsweek. "This should mean that fewer viruses could get inside the cells of the airways in people with asthma and allergies. However, we only found a lower risk of infection in people with food allergies."
There were findings beyond food allergies and asthma, including the finding that children play a critical role as a reservoir of asymptomatic infection and household transmission. Seibold and Hartert said about 75% of infections in children were asymptomatic and, as Hartert said, attending school in person "was the greatest risk factor for introducing an infection into a household." .
"There was even more circulation of the virus than was recognized due to the extent of asymptomatic infection, especially among young people," Seibold added.
The study also showed that an increasing body mass index (BMI) was associated with an increased risk of infection. Essentially, the higher the BMI, the higher the risk of infection, as Hartert described.
Seibold said doctors have long known that obesity is a risk factor for severe COVID, but this study "found that people who are obese or overweight are more likely to be affected" due to a linear relationship. between BMI or an increase in fat composition, and an increase in infection.
Hartert said the all-remote study involved "remarkable" participating households, "in that they were both study participants and their own research team" – including collecting their own nose samples before infection, during infection and after infection.
"Confirming the results and identifying the mechanisms of decreased risk of infection in people with food allergies and increased risk of BMI could be of great interest in identifying strategies to prevent the establishment of the infection," she said.
One study, with research conducted at the University of Kansas, found that "conversion messages" were quite effective in encouraging vaccine hesitants.