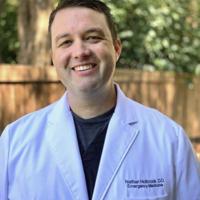 HOLBROOK: How to tell if it's allergies, COVID or the flu | Columns
With the spring winds blowing pollen through our area, we are experiencing an overlap of seasonal allergies, COVID-19, influenza, and other respiratory conditions. With many common symptoms among these respiratory conditions, it can be difficult to tell them apart. Here are some symptoms to look for with all of these illnesses.
With allergies, you will usually have sinus or eye related issues. Think red eyes, itchy, watery eyes and sneezing. Tree and grass pollens have been very high lately, making allergy sufferers miserable.
With COVID-19 or the flu, patients are more likely to experience any of these symptoms: body aches, chills, fever, nausea, vomiting, or diarrhea. Of course, the change or loss of taste or smell is unique to COVID-19, although we don't see it as much with recent variants.
Many symptoms of COVID-19, allergies and the flu can overlap. These may include cough, runny nose, congestion, sinus pressure, headache, sore throat, difficulty breathing/shortness of breath, and malaise (general discomfort or tiredness).
Because the symptoms can be confusing, if you suspect COVID-19 or the flu, consider getting tested. Certain medications can reduce the severity of these conditions if taken early. And if you suffer from shortness of breath, difficulty breathing, nausea, vomiting, and diarrhea to the point where you can't keep liquids or food down, you may become dehydrated and weak. That's when you need to see a doctor.
With less mask-wearing and more people gathering together, doctors are seeing an increase in all respiratory illnesses. Medical City Healthcare emergency rooms have seen an increase in flu cases over the past few weeks, so the flu is still lingering. And with the onset of the summer travel season, the risk of exposure to respiratory diseases increases. The CDC recommends that everyone 6 months and older get an annual flu shot. If you and your family have not been vaccinated against the flu, be sure to get your flu shot before your summer trip. Don't delay because flu shots aren't usually available in the United States after June — until next season's vaccine is available in the fall.
Keep in mind that just like with COVID-19 and the flu, it is possible to have COVID-19 and allergies at the same time. It's helpful to stock up on antihistamines for your seasonal allergies. And if symptoms become severe or unmanageable, call your doctor or go to the nearest emergency room.
Emergency Medicine Specialist Nathan Holbrook, DO, is Medical City Weatherford's Emergency Services Medical Director.