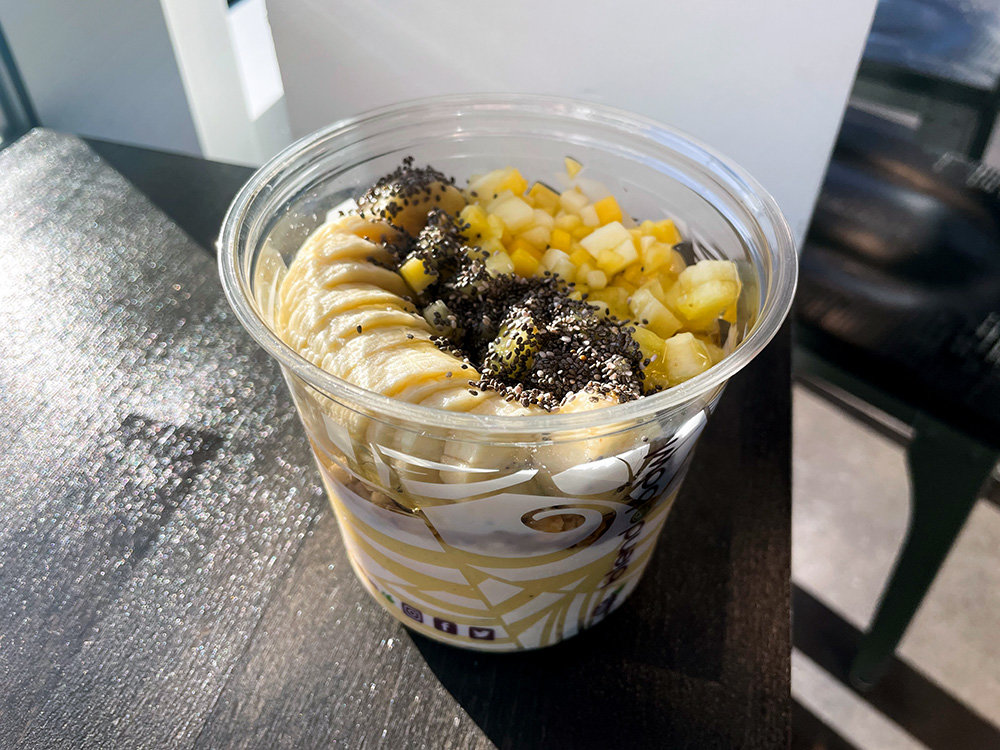 Dig into a bowl of sunshine at the Blendabowl
By Mary Shoemaker
"I have sunshine on a cloudy day; when it's cold outside, I have May." Remember the old song? You're probably singing the rest now, aren't you? That's how I felt at Blendabowl on a chilly February afternoon as I sat with two smoothie bowls, happily tasting them with a wooden spoon. The brightly colored bowls paired with the sun streaming through full length glass walls and the beach music transported me from the freezing cold to a beach.
Blendabowl is a cafe that offers frozen smoothie bowls and traditional smoothies, chili, homemade protein balls, and a variety of on-the-go items that are all healthy, especially for those with food allergies and sensitivities.
If you've never tried smoothie bowls, you're in for a treat. They are somewhere between a smoothie and an ice cream but dairy-free. Each comes with your choice of four toppings, including two fruits plus a top layer of crunchy homemade granola. Choose from strawberries, bananas, blueberries, blackberries, mangoes and pineapples. Then you can go from tame to exotic on your other toppings – from honey, almonds, chia, coconut and walnuts to cacao nibs, hemp hearts and bee pollen. !
The acai bowl has a base of its namesake fruit. If you're unfamiliar with acai, the purple fruit is considered a powerful and nutritious superfood. Unsweetened, it has a truly unique taste – subtly tart and earthy. Some say acai tastes a bit like chocolate – maybe. Blended with banana and apple juice, it tasted like a combination of sweet and luscious fruits including grape, apple and raspberry. I chose bananas, strawberries, chia seeds and coconut for the toppings. The mix of textures was a big part of the appeal – crunchy granola (we're talking fresh granola, not your average store variety), sweet fruit, flaked coconut, and a smooth, creamy base.
I didn't think I would like the passion fruit bowl. I don't usually favor tropical blends. For years acai was my favorite, but the bowl of passion fruit propelled acai to second place, much to my surprise and delight. It featured a mixture of passion fruit (an accepted antioxidant) with almond milk and agave, topped with bananas and mango. I chose chia seeds and honey for my toppings. I wasn't sure about the honey, but the waiter said it really gave the bowls a great "finish", and it definitely did! The mangoes and bananas delivered a double hit of tropical flavor, and both were perfectly ripened for optimal sweetness. This bowl was tangy and satisfying. I was trying to think of how to describe it when a waitress stopped by my table and, with a big smile, said, "That tastes like sunshine, doesn't it?" I completely agreed. What a beautiful description!
Even though it was warm and sunny in my head, I knew I would soon have to brave the cold, so I ordered a cup of Blendabowl's new Vegan Quinoa Chili, served with tortilla chips. Hot and fresh, the chili, with tomatoes, corn, onions, beans and quinoa, was a combination of salty/sweet. A comfort food, it was warm and filling and felt healthy.
There's a lot to love about Blendabowl and it's a great option if you're watching what you eat because you can control your calories based on your toppings. There is an amazing range of gluten free options and the bowls are dairy free so if you have allergy or tummy issues this might be the place to go.
Two bowls, chili and a protein scoop were under $30. Bowls can be a great breakfast alternative.
Consult the website, www.iloveblendabowl.com, to see the whole menu and pre-order. Blendabowl currently operates winter hours, closed Mondays and Tuesdays, so plan ahead.