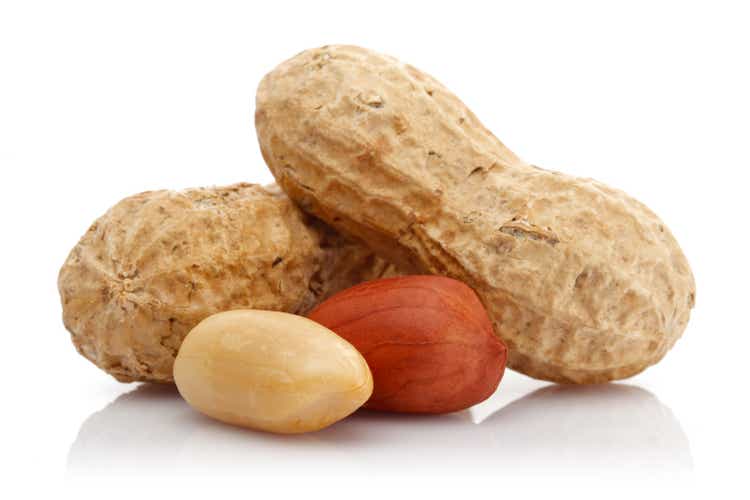 DBV Tech Stock: Lots of Liquidity and Regulatory Uncertainty (DBVT)
DBV Technologies (NASDAQ: DBVT) is developing an epicutaneous (on the skin) delivery system for the treatment of food allergies, including peanuts and milk. After completing a Phase 3 trial in children aged 4 to 11, the company received a CRL from the FDA for their Viaskin Peanut Patch due to concerns about patch adhesion. The company has redesigned the patch and will need to run a new phase 3 trial using the modified patch for this age group. Recently, using the unmodified patch, the EPITOPE study met the primary endpoint in children aged 1-4 years. DBV Technologies is well capitalized after a recent increase following the reading of EPITOPE. There is considerable uncertainty about the regulatory path, but in the longer term these assets, if approved, have significant value.
Peanut allergies and treatment options
There are over one million children in the United States with peanut allergies. The prevalence in babies is increasing and up to 5% of babies have a peanut allergy. Avoiding peanuts is the main strategy, but accidental exposure can lead to serious reactions.
Allergy treatments gradually increase the amount of allergens a child is exposed to. The goal of treatment is to desensitize the child and increase the amount of peanut that causes an allergic reaction.
There is no FDA-approved treatment for peanut allergies in children ages 1 to 3. At age 4, children would become eligible for Palforzia, an oral immunotherapy. It is newly approved and can only be prescribed by a qualified allergist and requires an FDA-mandated risk mitigation plan due to the risk of anaphylaxis.
In the Palforzia program, under the supervision of a trained physician, children ingest increasing amounts of peanut protein. Dose escalation occurs in a certified physician's office. Upon dose escalation, 67% of patients reported abdominal pain, 36.5% vomiting, 32% nausea, and 31% itchy mouth. There was a 9.4% anaphylaxis rate during dose escalation and 8.7% during maintenance dose. At the end of treatment, 67% of patients with Palforzia could tolerate a 600 mg dose of peanuts. (600 mg corresponds to about 2 peanuts).
The EPITOPE study met the primary endpoint
Toddlers aged 1 to 3 with peanut allergies were enrolled in the clinical trial. On a daily basis, their caregivers applied a Viaskin peanut patch. The highest dose patch contains 250 micrograms of peanut protein, which is a very, very small amount of peanut protein. (A microgram is one thousandth of a mg.)
The EPITOPE the trial lasted a year. 244 toddlers received treatment and 118 received a placebo. At the start and end of treatment, toddlers were given a food challenge to determine their trigger dose. The trigger dose is the amount of peanut that causes allergic symptoms. At the end of treatment, patients who were successfully treated showed the improvements shown in the table below.
| | |
| --- | --- |
| Before treatment | After treatment |
| Trigger dose less than or equal to 10 mg | Trigger dose greater than or equal to 300 mg |
| Trigger dose greater than 10 mg | Trigger dose greater than or equal to 1000 mg |
Source: DBV Technologies
67% of children treated met the "success" response criteria at 12 months. In comparison, 33.5% of children treated with placebo met the endpoint. (Note: The placebo response was likely the result of a self-resolving peanut allergy.) This result was statistically significant and the primary endpoint was met.
In the trial, there was a bulging SAE around the eye. The most common side effect was a patch application site reaction. 22.5% of children had a severe site reaction versus 8.5% of patients on placebo. These reactions decreased over the one-year treatment period. Eight children stopped treatment due to side effects.
Four children (1.6%) treated with Viaskin Peanut experienced an anaphylactic reaction which was determined to be or may have been related to the treatment. None of these anaphylactic reactions were serious. Three of these reactions resolved with epinephrine and one without epinephrine. A long-term open-label extension study is ongoing.
Revenue projections
The price of Palforzia is $11,000 per year. Assuming a similar price for the Viaskin patch, if approved, the company could generate significant revenue in the 1-4 year old patient population. If future clinical data is favorable, they may be able to obtain regulatory approvals to treat older children with peanut allergy and children with milk allergy. Clinical studies are ongoing in these indications.
Company finance
A recent private placement was completed, which raised $190 million at $3.22 per share. The placement also included warrants. Biotech hedge funds that participated included Venrock, Baker Brothers and RA Capital. At the end of the quarter, the company had $75 million on hand which it said would take it into the first quarter of 2023. This additional cash ($190 million) should significantly expand its cash trail.
conclusion
There is no FDA-approved treatment for children 1 to 3 years old with peanut allergy. Viaskin Peanut appears to be effective in children aged 1-3 years based on the results of the EPITOPE study. Additionally, Viaskin Peanut appears to have advantages over Palforzia given the reduced incidence of gastrointestinal side effects and fewer anaphylactic reactions.
The company will have discussions with the FDA regarding the regulatory path. The FDA previously issued a CRL due to patch adherence issues in children over 4 years of age. Given this set of data and the evident efficacy, patch adherence does not appear to be an issue in this age group. However, there is no clarity and additional modifications in the patch and/or additional clinical trials may still be required. The company has significant funding that will see it through this uncertainty, but the lack of a clear regulatory path remains a major risk for investors.
Viaskin Peanut is a unique product that, if approved, would have no competing product approved for children 1-3 years old. If future clinical data is favorable, the company could end up with a pipeline of peanut and milk allergy products that generate significant revenue. Since these are products likely to be prescribed only by allergists, marketing costs will likely be minimal. DBV Technologies has a path to profitability if it can effectively navigate the regulatory path. Aimmune, the small biotech that developed Palforzia, was acquired by Nestlé Health for more than $2 billion suggesting that actives for treating food allergies have significant value.