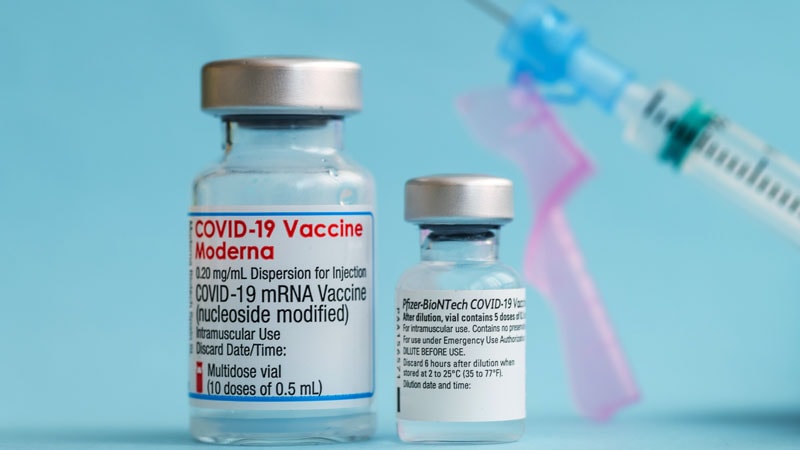 COVID injections appear safe for hospital staff at risk of allergy
[ad_1]
Editor's Note: Find the latest COVID-19 news and advice in the Medscape Coronavirus Resource Center.
An analysis of self-reported allergy risk and post-COVID-19 vaccination incidents – such as urticaria and angioedema – among employees of a large medical system suggests that these types of side effects can be managed and may tend to decrease in severity with second doses.
The prospective study was conducted by Lily Li, MD, and colleagues and was published online October 26 to JAMA network open. The authors are affiliated with Mass General Brigham (formerly known as Partners HealthCare System), a Harvard-affiliated system that includes 16 healthcare facilities in the Northeastern United States.
The study involved 52,998 Mass General Brigham employees who had received the Moderna or Pfizer-BioNTech vaccine. Of these, 51,706 participants (97.6%) received two doses; 474 participants (0.9%) reported having a history of high risk allergy.
The risk of self-reported severe allergic reactions within 3 days of vaccination was 1.3% in employees with a history of high-risk allergy and 0.3% in those without such a history, the investigators report. A history of high-risk allergy was therefore associated with an increased risk of severe allergic reactions following COVID-19 mRNA vaccination (relative risk, 4.96; 95% CI, 2.20 – 11.19; adjusted relative risk, 5.20; 95% CI, 2.30 – 11.75).
Cases of allergic symptoms decreased after the second injection and severe reactions were rarely seen, write Li and colleagues.
"The overall results of the study indicate the overall safety from an allergic point of view for the two mRNA vaccines," Li said. Medscape Medical News in an interview.
Li and his colleagues used data that had already been collected as part of the administration of COVID-19 injections.
Mass General Brigham has asked his employees to perform an allergy risk assessment before vaccination, either online, over the phone or in person. For employees who have not reported a history of severe allergic reaction, there was a standard observation period of 15 minutes after vaccine administration. For those who had reported a history of a severe allergic reaction to an injectable drug, vaccine, or other allergen, such as latex or a certain type of food, the observation period was doubled to 30 minutes.
The authors note that the study is limited by the fact that it focuses on healthcare workers in one geographic region, so the results may not be generalizable to other groups.
"However, given the thousands of individuals who were included in this study, the results remain informative and very relevant at the start of mRNA booster vaccinations," they write.
Investigators note how concerns about potential allergic reactions have hampered the use of vaccines during the H1N1 flu A 2009-2010 pandemic. During this pandemic, concerns have been raised about the safety of administering vaccines containing eggs to people with egg allergies. This "has played a role in the worldwide reluctance to vaccine," write Li and colleagues.
"A large body of evidence subsequently emerged that indicated that the inactivated influenza vaccine was safe for people with allergies to eggs, and current national and international guidelines now recommend administration of the influenza vaccine to people with allergies to eggs. any seriousness, "they write.
For request of Medscape Medical News, Michael Ganio, PharmD, senior director of pharmacy practice and quality at the American Society of Health-System Pharmacists (ASHP), reviewed the article by Li and colleagues. He said that due to the size of the study population, this provides insight into how known risk factors may contribute to vaccine reactions and that the study in general increases confidence in these injections.
But Ganio also noted that many Mass General Brigham employees who said they had no history of allergic reactions have had one after receiving the vaccines.
Of the 52,524 employees who did not report having high-risk allergies, 964 experienced allergic symptoms at an initial dose. Of these, 62 suffered a severe reaction.
Of this group of 964 people who presented with allergic symptoms, 908 received a second dose. Of those who received a second dose, 110 had allergic symptoms. A reaction was severe.
With the second dose, there were 938 cases of allergic symptoms among the 50,353 people who had no history of allergic reactions and who did not have one after a first dose.
These results underscore the importance of monitoring patients for 15 or 30 minutes after receiving their injections, Ganio said.
"Just because you don't have a history doesn't mean you're not likely to have a reaction," Ganio said. In the study, there was "a higher percentage for people who had a history, but that doesn't mean it can't happen in others as well."
Li received a grant from the National Institute of Allergy and Infectious Diseases. Its co-authors received research funding from Massachusetts General Hospital and the National Institute of Allergy and Infectious Diseases. Several authors have financial relationships with the industry, which are listed in the original article.
JAMA Netw Open. Published online October 26, 2021. Full Text
Kerry Dooley Young is a freelance journalist based in Washington, DC. She is the Senior Subject Manager on Patient Safety Issues for the Association of Health Care Journalists. Young earlier covered health policy and the federal budget for Congressional Quarterly / CQ Roll Call and the pharmaceutical industry and the Food and Drug Administration for Bloomberg. Follow her on Twitter at @kdooleyyoung.
For more news, follow Medscape on Facebook, Twitter, Instagram, and YouTube.

[ad_2]