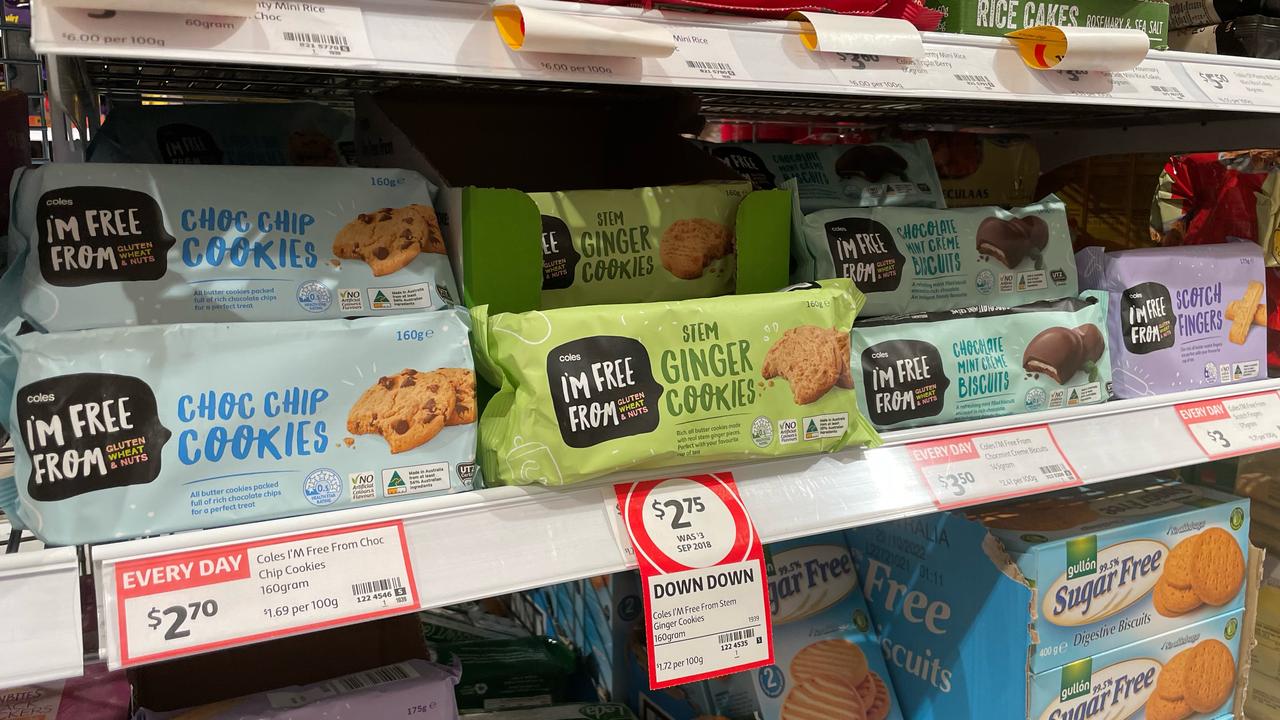 Coles allergen-free food: I'm Free From biscuits see huge surge in demand
The supermarket has revealed that there has been a huge increase in the number of gluten-free foods that taste "like" the real deal.
It's safe to say that there has been a surge in demand for supermarket essentials like toilet paper, Panadol and meat since the start of the pandemic.
But Coles has also seen a whopping 75% increase in sales for one product in particular since 2020 – prompting the supermarket giant to announce a six-figure investment today.
The Coles Nurture Fund has awarded $400,000 to Not A Trace, a Melbourne-based family business that makes gluten, nut and wheat free products for the supermarket.
Products that meet dietary needs are a rapidly growing section of the supermarket. Over the past two years, demand for its "I'm Free From" line of cookies and biscuits has increased by 75%.
The products, which include chocolate creme de menthe cookies, scotch fingers and chocolate chip cookies, start at $3.50 a pack and come in a range of gluten-free, nut-free and gluten-free varieties. wheat.
The $400,000 grant will allow Coles to expand its line of specialty diet products to include allergen-free salty crackers and snacks.
Coles general manager for groceries, Leanne White, said she has seen an increase in demand for one type of allergen-free food in particular.
"At Coles, we have seen a growing demand for gluten-free crackers, breads and cookies over the past few years, coupled with customer adoption of gluten-free products as a healthy food source and an increase in the consumption through a growing awareness of food allergies and intolerances," she said.
Celebrity chef and Coles Nurture Fund judge Curtis Stone has endorsed the supermarket's allergen-free range.
"As a chef myself, I know how important it is to address the growing number of food intolerances and allergies that affect many Australians," he said.
"It's fantastic to be able to help Not A Trace grow their business by producing
a tasty range of tasty and excellent quality biscuits so that those following a strictly gluten-free diet can enjoy delicious meals without compromise.
"The taste and quality of their Coles I'm Free From range of sweet snacks is second to none – the mint cream tastes like a slice of mint!"
Not A Trace director Samantha O'Brien said she was delighted with Coles' investment in making more allergen-free foods available.
"There's a lot of work to be done to develop these products and differentiate them from other products on the market, to make sure they taste great," she said.
Read related topics:
Coles