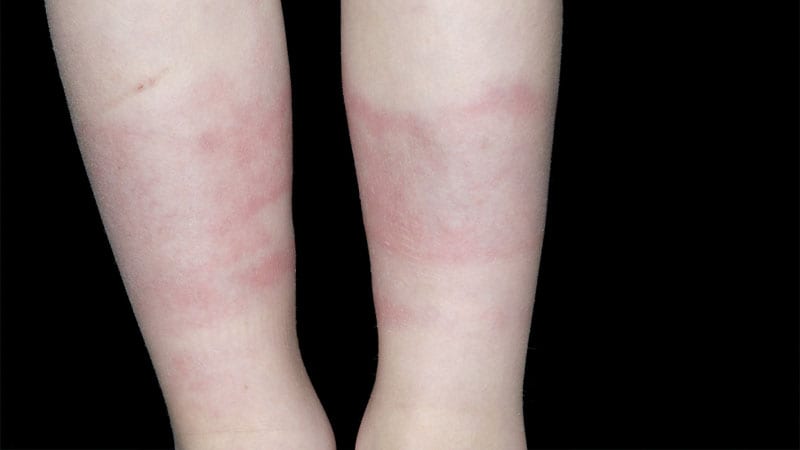 Childhood cold allergy persists and increases risk of anaphylaxis
In children, the rare disease cold urticaria (coldU) tends to persist for years and carries a high risk of anaphylaxis, a study reports from Canada.
ColdU often affects young adults but can occur at any age. "Data on coldU in children are sparse," the authors write in Pediatric allergy and immunology. For people with coldUexposure to cold can trigger a red, itchy, allergic rash, swelling, and possibly anaphylaxis.
"This study demonstrated that pediatric patients with urticaria are more likely to have more difficult-to-control disease if they have concurrent chronic spontaneous urticaria (CSU), and they are more likely to have cold-induced anaphylaxis if they have elevated eosinophils," William C Anderson III, MD, an associate professor of pediatrics, allergy and immunology at the University of Colorado's Anschutz Medical Campus in Aurora, said Medscape Medical News. He did not participate in the study.
"A significantly higher proportion of patients with cold-induced urticaria had comorbidities asthma and atopic dermatitis compared to patients with chronic spontaneous urticaria," Anderson added in an email.
More data needed on ColdU in children
The study's lead author, Connor Prosty, BSc, a medical student at McGill's Faculty of Medicine and Health Sciences in Montreal, Quebec, Canada, and colleagues assessed data from 52 consecutive children enrolled from prospectively with coldU. The patients were treated at a teaching pediatric hospital and an allergy clinic between 2013 and 2021, and their records were kept in the chronic urticaria registration.
The researchers collected data on severity, comorbidities, laboratory values, management, and demographics at baseline and during annual assessments. To compare children with coldU to those with only CSU, they pulled data from children in a previous study that had used the same registry.
Just over half of the children with coldU recruited for the study were girls, and the median age at onset of symptoms among all participants was 9.5 years. Their coldU triggers included swimming, cold weather or air, and cold food or drink. Most patients were taking second-generation H1 antihistamines (sgAH) to treat the disease.
In patients taking sgAH, well-controlled disease was negatively related to associated CSU (adjusted odds ratio = 0.69; 95% CI, 0.53, 0.92).

Elevated eosinophils were linked to cold-induced anaphylaxis (adjusted odds ratio = 1.38; 95% CI, 1.04, 1.83), which occurred in 17.3% of patients.

The resolution rate of coldU – 4.8 per 100 patient-years – was lower than that of CSU (adjusted relative risk = 0.43; 95% CI, 0.21 – 0.89).
The authors acknowledge the limitations of their study, including the small sample size and the wait for care of approximately 4 to 8 months, during which cases may have been resolved before patients are recruited into the study. 'study. In addition, four (7.7%) patients were lost to follow-up; for about a quarter of patients, laboratory values ​​were missing; and the hives control test that all participants took has not been validated for children under 12 years of age.
Study results help physicians plan care with patients and families
Amin Kanani, MDCM, FRCPC, associate clinical professor in the Faculty of Medicine and head of the Division of Allergy and Clinical Immunology at the University of British Columbia in Vancouver, British Columbia, Canada, said Medscape Medical News that treating cold urticaria can be difficult.
"This study has identified important prognostic factors for this condition in children," he said in an email. "Cold urticaria can last for years and was longer in children who had concurrent chronic spontaneous urticaria. Additionally, eosinophilia has been identified as a marker that predicts cold-induced anaphylaxis, a feared complication of this ailment."
Kanani, who was not involved in the study, added: "Although the sample size is small, this study adds to the growing body of knowledge that currently exists on cold urticaria, and it helps in the management of this disease in children."
For Anderson, the study results help answer questions often asked by parents of children with coldU: How long will it last? What are the chances that my child has anaphylaxis? Are there tests to detect these risks?
The results can help healthcare providers manage the common cold in children, and they can be used in shared decision-making with families, Anderson recommended.
"Although cold-induced urticaria is rare, approximately 1 in 6 patients have developed cold-induced anaphylaxis. Knowing this, pediatricians can educate families about the signs, symptoms, and potential risk of cold-induced anaphylaxis by the cold," he advised. "Doctors can get an eosinophil count screen to help inform risk and provide anticipatory advice on potential disease duration, and they can potentially prescribe epinephrine auto-injectors."
The authors recommend further related research, including multicenter studies to investigate factors related to coldU resolution.
No information regarding study funding was provided. Several authors and Anderson have financial implications with pharmaceutical companies unrelated to this study. Prosty and Kanani declare no conflict of interest with the study.
Pediatr Allergy Immunol. Published online March 3, 2022. Abstract
For more information, follow Medscape on Facebook, Twitter, instagramand YouTube.