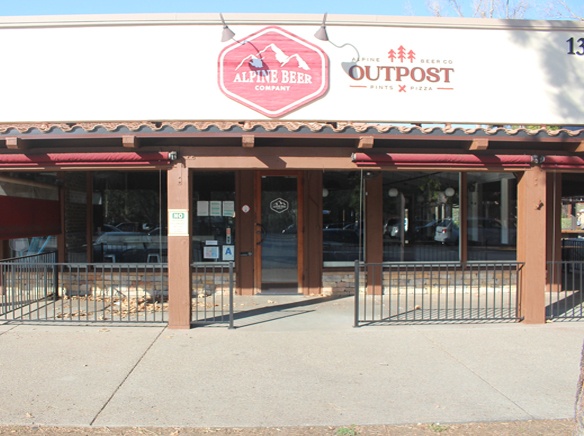 Change is brewing at Alpine
Mike Hess Brewing will creep into the former Alpine Beer Company outpost in early March, with food and beer on tap at its first East County location.
Brewery chef and owner Mike Hess said the award-winning brand, which started with a tasting room in Miramar and has grown to Ocean Beach, Imperial Beach, North Park and others "already has a lot of waterfront locations," but this new location is specifically aimed at active families in East County.
"I've lived everywhere, I've lived in East County in Lakeside, I used to race ATVs on Anderson Truck Trail and the exciting thing is now we can bring that to hikers and mountain bikers. As a brand, we have cans in addition to bottles, which is a bit different from a lot of brewers. That means people can hike into the backcountry and bring cans that get crushed in a backpack and then recycled," Hess said.
He's excited about the upcoming location's large patio, touts the beauty of the warm East County weather, and year-round outdoor dining options. The brewery has received attention for continuing to serve customers outside as part of a 'peaceful protest' while most businesses followed government mandates against any form of in-person dining at the height of it of the COVID-19 pandemic.
"People can be adults and make their own decisions," Hess said — rather than slowing down business, the company shifted to making hand sanitizer in spring 2020 instead. the owner says he brought almost all of his temporarily furloughed staff back to work as soon as possible.
Hess expects a smooth transition to the new Alpine site, so staff currently working there will transition to work as Mike Hess Brewing employees. Hopefully, he said, the new location will grow to be part of the community, picking up and improving on the current brewing venue.
Currently, the company is "very active in local philanthropy" and hosts a monthly fundraiser for a chosen non-profit organization.
"Last month it was Camp No Limits, a group that works with children who have a limb difference, this month is focusing on preventing sex trafficking. We host an event every year for the National Pediatric Cancer Foundation and we also do a twinning with Girl Scout Cookies," Hess said.
However, in addition to extending current practices from other localities to the new Alpine location, the company is also using the future shop to test new menu items specifically for customers with food allergies that they can pair with an infusion. gluten free.
"We're working on ways to improve the menu because it can't always be pizza. My wife, Lynda, has food allergies and we will be bringing hypoallergenic items for people with gluten or dairy intolerance, including kids' menus,' which shouldn't just be macaroni and cheese, Hess said.
The new location is also intended to be extremely family-friendly, a holdover from his family opening their first tasting room in Miramar in 2010. Ideally, Hess said, he would like the new location to become a place where families can "come hang out together", including four-legged family members.
"We are definitely family and pet friendly – ​​we have four dogs, one is a service dog for our daughter who is a cancer survivor and the other three are pets. Our kids were around seven, five and two when we started and it wouldn't have been fun if we couldn't bring our kids to work," Hess said.
Although these young children are older now, family, he says, will always be part of the company culture.
The new Mike Hess store will open at 1347 Tavern Road in early March.