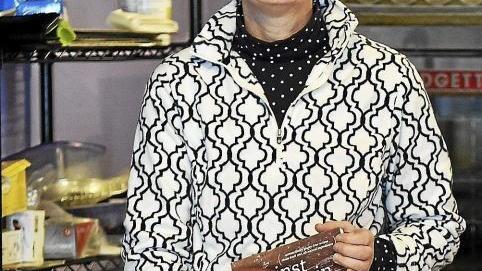 Against the tide sold, new owner plans local expansion |
BRATTLEBORO – Brattleboro's gluten-free pizza pioneer is expanding his horizons.
On Tuesday, Against the Grain announced its partnership with HumanCo, a wellness company focused on healthier living and sustainability.
"We're really excited," said Tom Cain, who founded Against the Grain with his wife, Nancy, in 2005. "We started talking to them at the start of the year. It's been a pretty long parade."
HumanCo bought a controlling stake in Against the Grain, but Tom said he and Nancy, and the operation in Brattleboro, were not going anywhere. In fact, he said, the reason they decided to partner with HumanCo is that they have wanted to grow the business for years, but they lack the capacity to do so.
"We needed more than we could develop on our own," he said. "Sales and marketing expertise and growth in our ability to offer more products. "
Amy Zipper, COO of HumanCo, said Against the Grain is a perfect fit for HumanCo's growing family of brands as they share a common mission to create healthy and delicious products.
"The HumanCo team have been eating Against the Grain pizzas and breads for years," she said. "HumanCo is dedicated to creating and acquiring brands that meet its high standards for health, ingredients and quality. "
Nancy has developed gluten-free products for her husband because he suffers from celiac disease, an intolerance to gluten, which elicits an immune response when consumed.
"Three of my kids have food allergies," said Zipper, who works outside of New York City but has a second home in Stratton. "We are focused on a gluten-free diet and have actively researched Against the Grain products."
Zipper also said that Karp suffers from autoimmune issues.
"He used the food to heal himself," she said. It was therefore natural for HumanCo to want to partner with people like Tom and Nancy Cain who share HumanCo's values. "They are an important part of the business and continue to be very committed to Against the Grain and the local community. We are fortunate to partner with founders who share our mission goal of health and sustainability."
"We did a customer survey and the biggest complaint we heard was that people weren't finding enough Against the Grain products," she said. "We will expand the brand's presence nationwide and expand its distribution to different stores as well without compromising on quality."
HumanCo will retain the current management staff and all employees and seek to increase its staff. Zipper said that in the future Against the Grain will maintain and expand its presence in Brattleboro.
Zipper said she believes Against the Grain will continue to attract the best local workers, especially given its great work culture, compensation programs and growth plans. The company will also continue to source ingredients locally.
Adam Grinold, executive director of the Brattleboro Development Credit Corporation, which manages the BDCC business park where Against the Grain is located, said there was room to grow there.
"Tom and Nancy took an idea, put it in the oven and have been cultivating it ever since," he said. "I know they are really excited to have this new outside resource and a chance to grow."
Tom Cain told the reformer that Against the Grain currently has around 100 employees.
"We are the leading manufacturer of frozen bread and pizza in the gluten-free market," he said. "We've been providing bread and pizza across the country for the past seven or eight years."
Karp co-founded Hu, a paleo restaurant in New York City in 2012 with his wife Jessica and brother Jordan. They closed the restaurant in 2020 and turned to preparing snacks. Karp recently sold Hu to Mondelez and went on to found HumanCo, which recently launched its first product, Snow Days, a cassava-based crust snack containing mozzarella cheese from grass-fed, pasture-raised cows. , and a sauce packed with tomato, sweet potato, carrot, spinach, onion and olive oil.
Last year, HumanCo acquired a controlling stake in Coconut Bliss, a maker of non-dairy frozen desserts and also invested in Montys NYC, a maker of a cream cheese spread made from walnuts. cashew.
"I love pizza, but most grain-free options don't taste very good and / or are filled with weird and questionable ingredients," Karp said in a press release announcing the acquisition of Against the Grain. . "They make the most delicious, eco-friendly pizza and bread that meets both our HumanCo ingredient and taste standards."
"As a family business in our little corner of Vermont, the decision to join HumanCo was not taken lightly," Tom Cain said in the press release. "We are fortunate to have found a partner who understands the importance of our commitment to creating the highest quality grain-free bread and pizza. They also understand that our people are one of our most important ingredients, and they share our commitment to give back. to our community. Employee retention is paramount, and the future scale of our products will provide employees with even greater career opportunities. Our employees, the company and our community will reap the benefits of this partnership. "
Terms of the deal were not disclosed.